Why You Need A Mobile Hairdresser, Mobile Makeup Artist, And Home Service Beauty Treatments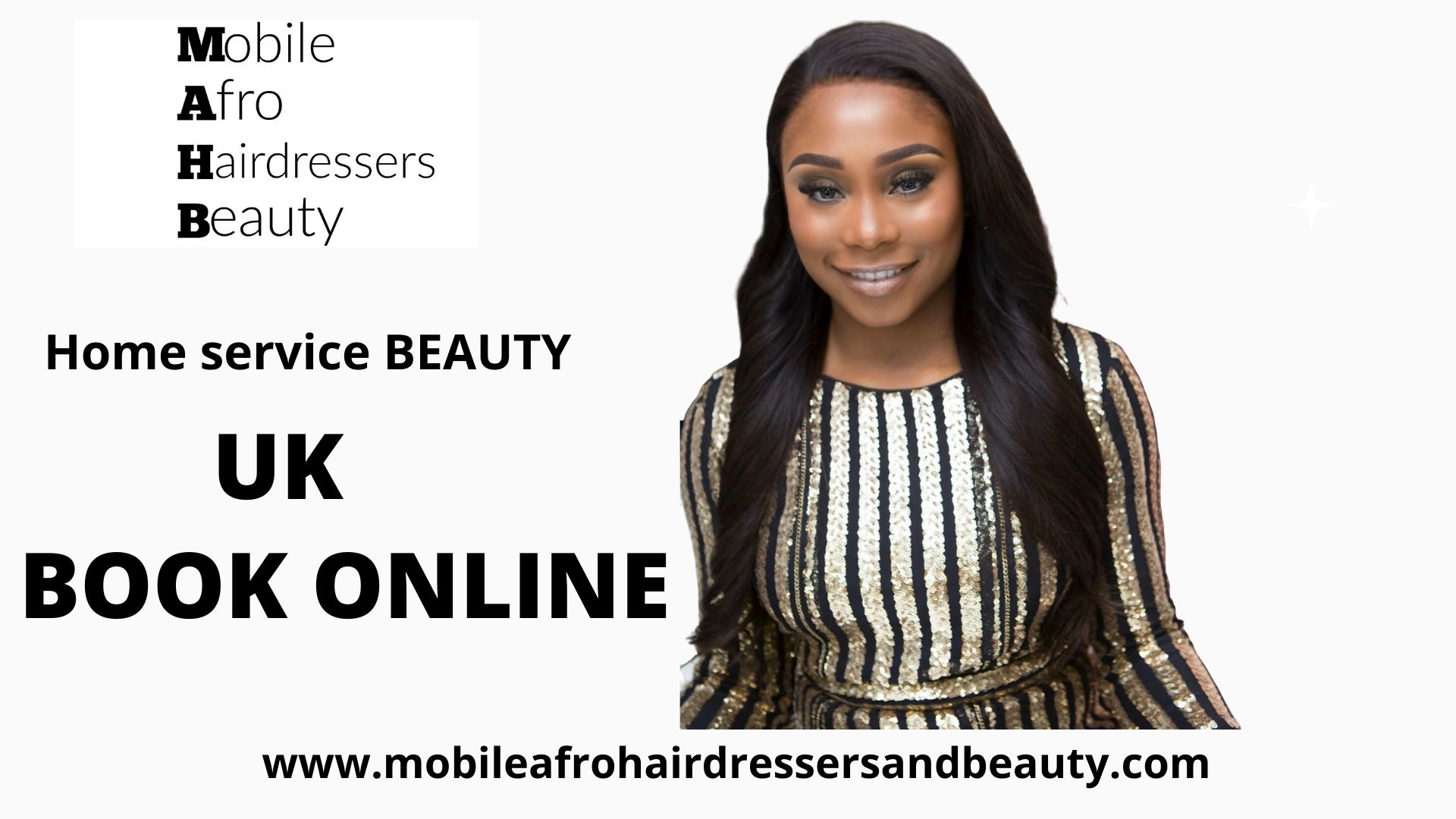 Why You Need A Mobile Hairdresser, Mobile Makeup Artist, And Home Service Beauty Treatments?
Do you have a special occasion or event coming up? Is your hairstylist or makeup artist booked for the period, don't worry. We have the perfect solution for you.
Whether you need a sophisticated custom style to turn heads for a red carpet event, or the trendiest look but cannot make it to the salon. 
All you need is the beauty team from Mobile Afro hairdressers and Beauty, and we are at your door. We are professional mobile hairdressers, makeup artists, and beauty experts that will bring the salon to your home, office, or wherever you are.
Once upon a time, only the rich and famous had the luxury of a home service beauty treatment or a mobile makeup artist at their beck and call. Now the world is changing, and despite the pandemic, looking good is still good business.
However, it can be done right. Thanks to the professional team at Mobile Afro Hairdresser and Beauty, everyone can have a beauty team come into your space regardless of class, wealth, or status for a sexy makeover any day.
Why do you need a mobile hairdresser or mobile makeup artist?
How many times have you booked an appointment only to have it canceled or delayed at the last minute? Are you tired of making long salon trips that end with you attending a meeting or event late?
If you answered yes, then you need the Mobile Afro Hairdressers and Beauty team in your home now.
Mobile hairdressers and makeup artists are like your regular stylist, but they come to you. This allows you to be more relaxed, free, and get the desired look because it is all about you.
If you live in the UK and need a custom look or one-on-one body treatment in the comfort of your home, we are the beauty team for you.
Benefits of Appointing a Mobile Beauty Team
Privacy and Comfort 
If you are preparing for an occasion, having your hair done at a salon can be a mess by the time you start to dress up for the event. However, this is avoidable with a mobile hairdresser and makeup artist in your hotel or home with you. Furthermore, every mess or mishap can be easily corrected.
Pamper Yourself Without Bother
Most women feel shy stripping for a massage at a spa. This fear can be put to rest in the comfort of your home, as you are sure of your safety, privacy, and result from the treatment. It also gives you enough time to tackle all the issues you have for perfect glowing skin after your home service beauty treatment session is done.
It Saves Time and Is Cost-Effective
A mobile makeup artist can cater to more than one person in a comfortable setting without any hiccups. For example, taking all your wedding entourage for beauty treatment is burdensome. However, if the mobile team comes to you, it is faster and saves time.
Although it will cost a couple of pounds more, it is definitely worth the call, and it calms the bride too.
So what are you waiting for BOOK NOW !
our services can be seen on our website
Register/ Book:https://mobileafrohairdressers...
Services/ Pricelist https://mobileafrohairdressers...
Our social links

Youtube: https://www.youtube.com/channe...

Facebook: https://www.facebook.com/Mobil...
Instagram: https://www.instagram.com/mobi...
Contacts : https://mobileafrohairdressers...