MOBILE MAKEUP ARTIST IN UK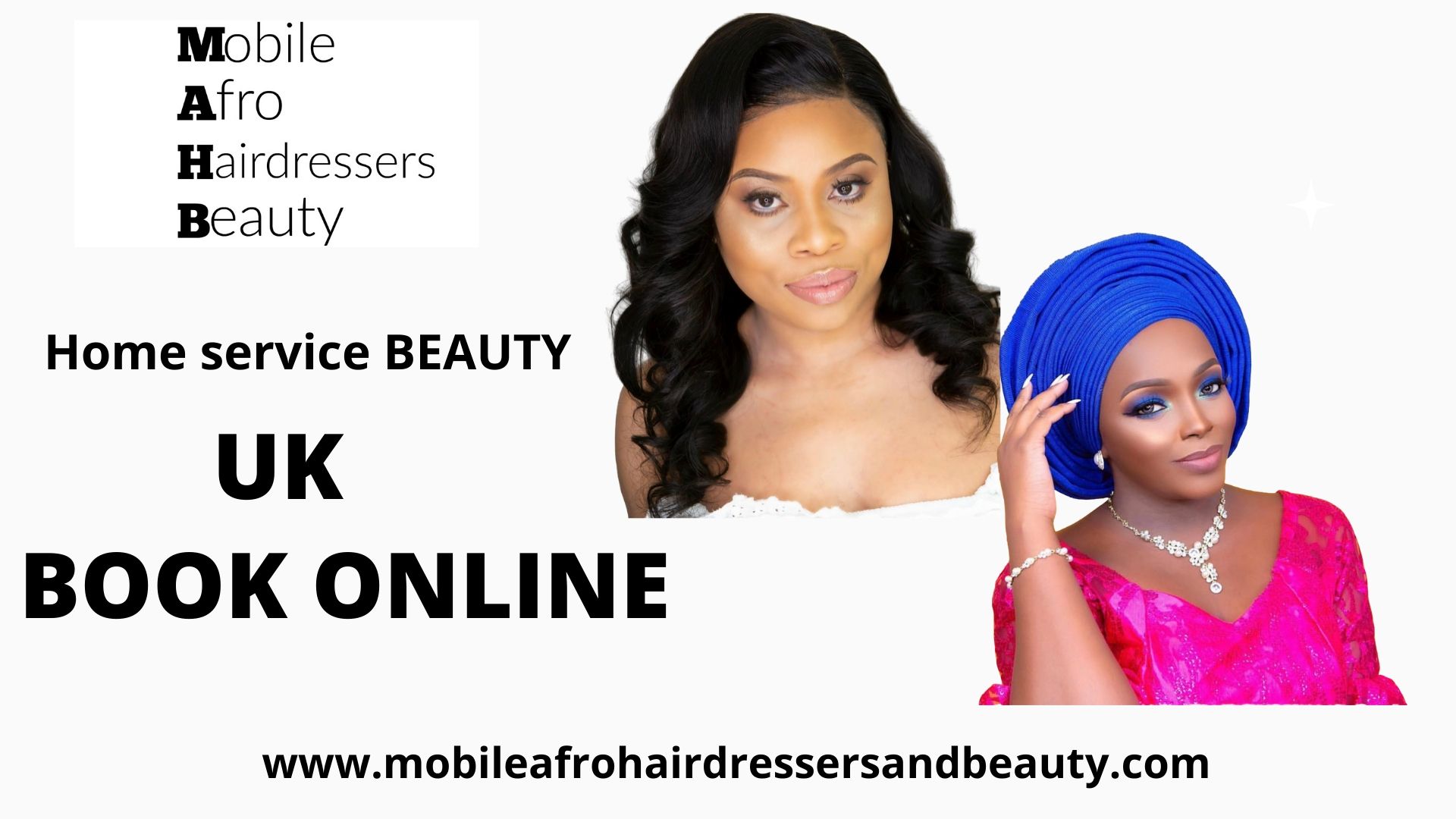 Mobile Makeup Artist In UK
Looking for a professional makeup artist for your wedding? Look no further. We at Mobile Afro Hairdressers and beauty have got you covered. We have numerous qualified makeup artists around you. You can sign up and check the portfolio of a beautician around you. Check and book your preferred home service makeup artist, and they are at your doorstep.
We are a United kingdom based MOBILE AFRO HAIRDRESSERS AND BEAUTY agency. We are providing client and staff a platform where they can connect, through our one of a kind online professional up to date website. We understand time is money, and a lot of women work from home; some have kids, and most times don't even have 3 hours to travel to and fro a salon. Don't worry; we are bringing the Salon to you, offering comfort, quality, and affordability at the same time. This way, you can work online, study, look after the kids, and still get your beauty treatments anywhere in the United Kingdom. Our online payment system was intended, so you don't even need to leave home for CASH after service.
All our staff are experienced and offer the best services; we only approve teams who meet our standard. Thanks for your co-operation.
Our beautician is experienced and qualified; we only approve staff who meet our standard. Looking for a mobile Makeup artist for prom makeup, birthday makeup, party makeup as well as bridal makeup and hair. We are United Kingdom mobile beautician, and we are a click away. Sign up and register and find a mobile makeup artist near you. Click here 
https://www.mobileafrohairdressers.com/login/
Here are some makeup inspiration for you; you can check our portfolio for more pictures.
OUR WEBSITE: https://mobileafrohairdressersandbeauty.com/
BOOK US: https://mobileafrohairdressersandbeauty.com//login/
JOIN OUR TEAM: https://mobileafrohairdressersandbeauty.com//registration/
TRAINING CLASS| TRAIN WITH US: https://mobileafrohairdressersandbeauty.com//events/
FOLLOW US
Instagram: https://www.instagram.com/mobileafrohairdressers_beauty/
Facebook: https://www.facebook.com/Mobile-afro-hairdresserbeauty-262540431109881/?modal=admin_todo_tour
Twitter: https://twitter.com/Mobileafro_Mahb
#UKHAIRDRESSERS #UKBEAUTICIANS #UKMOBILEBEAUTICIANS
#MAKEUPARTISTLONDON #HAIRDRESSERLONDON #UK #LONDON